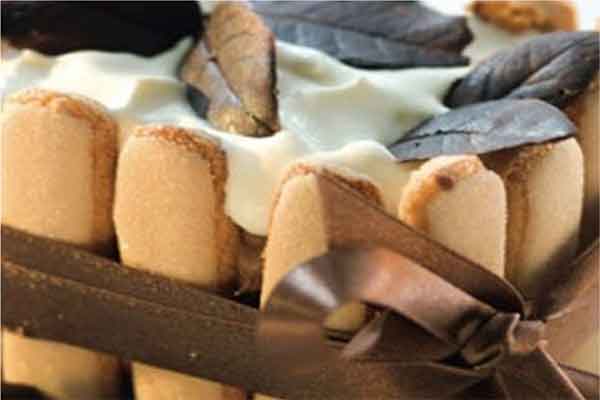 ABOUT THE RECIPE
This dark and decadent chocolate and coffee treat may take a little extra care and time to make but it will definitely be worth the effort. Decorate with BAKERS Boudoir biscuits, leaves and satin ribbaons to create a perfectly delicious and luxioursly sweet gift.
Serves 8 or more
1X 200 g packet of BAKERS Boudoir® biscuits
65 ml coffee liqueur or sweet black coffee
3 jumbo eggs, separated
65 ml castor sugar
45 ml coffee granules
300 g melted milk chocolate
200 ml melted butter
250 ml cream, stiffly beaten
100 g melted dark chocolate whipped cream (extra)
Line a small loaf pan with cling film. Sprinkle the BAKERS Boudoir® biscuits with the liqueur or coffee and arrange them, standing upright with the sugared sides facing outwards, around the inner rim of the loaf pan.
Arrange a few biscuits in the bottom to form a base and set aside.
To make the filling, beat together the egg yolks, castor sugar and coffee granules until the sugar and coffee dissolve, then stir in the melted milk chocolate and butter.
Lightly fold in the stiffly beaten cream so it does not lose any of its volume.
In a seperate bowl, beat the egg whites into stiff peaks and fold in lightly into the mixture. Pour mixture into the biscuit base and cover completely with cling film.
Chill overnight in the fridge or a couple of hours in the freezer then turn out and decorate with the melted dark chocolate and extra whipped cream.
But don't rush it : make it the day before. That will ensure that it sets well overnight.
HINTS & TIPS