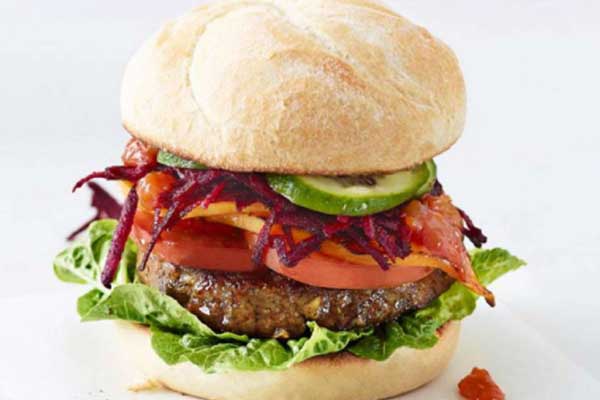 120 pumpkin
1/2 400 can kidney beans
100 firm tofu
1 spring onion
1 clove garlic, crushed
1 cup mushrooms, finely chopped
1/4 teaspoon celery salt
1 teaspoon smoked paprika p
2 crusty bread rolls or burger buns cut in half
2 teaspoons Tablelands Dairy Free Buttery Spread or Tablelands Reduce
l tomato, sliced
Grated beetroot
1 cucumber sliced
Tomato relish, to serve
1. Pre-heat oven to 220°C/200°C fan-forced. Cut pumpkin into thin slices, place in a single layer in a baking dish and spray with oil. Roast for 15 to 20 minutes or until tender.
2. In a large bowl, mash beans and tofu and add spring onion, garlic, mushrooms, celery salt and smoked paprika. Mix well with your hands and form into two large patties.
3. Spray a medium frying pan with oil and set over a medium heat. Cook patties, turning until brown. Place patties in a pre-heated oven for 10 minutes to finish cooking. Set aside to cool and firm up.
4. Toast the rolls and spread with Tablelands Dairy Free Buttery Spread.
5. Top with lettuce. vegan burger, tomato, roast pumpkin. beetroot and
cucumber.
6. Dollop the tomato relish on top and serve.